Rice at Eco-Rice Niigata
We handle two types of rice: pesticide-free rice and pesticide-reduced rice using very little pesticide as much as possible, and we are working on environmentally friendly cultivation methods. In the rice fields in a clean environment, tadpoles and killifish swim, dragonflies and fireflies fly around, and there is a landscape of the rich nature of the countryside.
Reduced-Pesticide Cultivation
This cultivation method is carried out based on the guidelines of the Ministry of Agriculture, Forestry and Fisheries of Japan or MAFF. In addition, by-products after harvesting such as rice straws, rice husks, rice bran, etc. are also returned to the rice fields, making efforts to create soil and recycling-based agriculture.
Various Farming Methods
Rice Bran Cultivation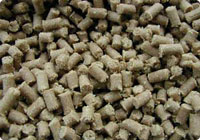 After planting rice, rice bran pellets (processed rice bran into pellets) are sprinkled in the rice fields. As the pellets are soaked in water, the water becomes turbid, and the gelatinous layer suppresses the growth of weeds. The pellets contain rich nutrients and are useful as a fertilizer. But the problem is that the timing of sprinkling rice bran is difficult, and the effect may be weakened, which may lead to the outbreak of weeds.
Paper Mulch Cultivation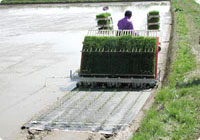 Seedlings are planted while laying paper mulch on the rice fields with a rice transplanter. A polyethylene mulch film for agriculture was conventionally used, which had become an environmental problem. Since the sunlight does not reach the place where the paper mulch is laid, the growth of weeds can be suppressed. The paper mulch gradually decomposes in about two months without leaving any solid waste, so it is environmentally friendly. The problem is that if paper mulch is used continuously for a long time, microorganisms grow rapidly, which accelerate the decomposition of paper reducing the effect by half and costly resulting in the outbreak of weeds.
Mallard Cultivation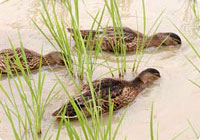 Mallards cohabit in rice fields and help to control weeds by creating muddy, turbid water and eating insects that damage rice. However, the problem is that mallards are very difficult to manage. If you overfeed them, the mallards will not eat the weed causing the outbreak of weeds. Also, there is always a risk that mallards can escape or be attacked and eaten by wild animals such as raccoon dogs.
Chain Weeding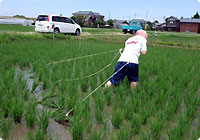 After planting rice in the field, we attach chains to sticks and machines and drag them through the deep-water rice fields to physically exterminate weed buds. Even if the rice is pulled by the chain, it will remain intact and shortly spring back like a willow leaf. College students at Tokyo Kasei University also took on the challenge of weeding as they experience the farming in Niigata.
Manually Removing Weeds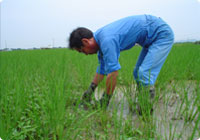 The hardest work in making rice. All the traditional farmers used to weed by hand. When young students experience this work, they seem to enjoy it and having a fun time.
Weeder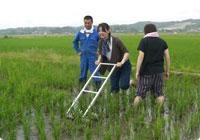 By pushing a traditional hand-held weeder between the rice plants, weeds are trapped in the water to control the growth.
---
Smart Agriculture
At Eco-Rice Niigata, we are taking on the challenge of cutting-edge agriculture utilizing robots, drones, IOT, and ICT technologies.
Mallard Robot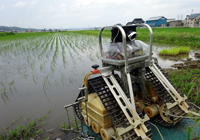 A remote-controlled robot in a shape of mallard that runs around in rice fields with caterpillars for weed control.
Sensing by Drones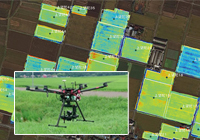 The measurement of rice fields by sensors, which was typically done by the analyzing digital photos shot from artificial satellites, but now, it has become possible at much lower cost by recent technological innovations such as GPS and drones with more accuracy and detailed data. This reduces the waste of fertilizers and pesticides since fertilizers and pesticides can be applied only to poorly grown areas as diagnosed by the image data of rice fields taken aerial with a drone. Thus, sensing by drones can reduce farming costs.
Drone for Spraying Fertilizers and Pesticides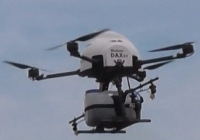 In fact, a human who carries a power sprayer on his back spraying pesticide to cover one hectare of field, takes an hour. However, in less than 10 minutes, it is also possible to automatically spray fertilizers and pesticides based on the data obtained by remote sensing as previously stated.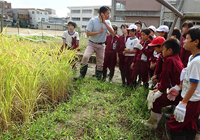 In rice cultivation, remote sensing has increased yields, reduced costs, and is sufficiently showing cost-effective results. While collaboratively working with a local technology college for agricultural robot development, brewing sake with an agricultural high school, cultivating rice in the rice fields with an elementary school in the city, we are looking to the future of rice and agriculture in Niigata, Japan.